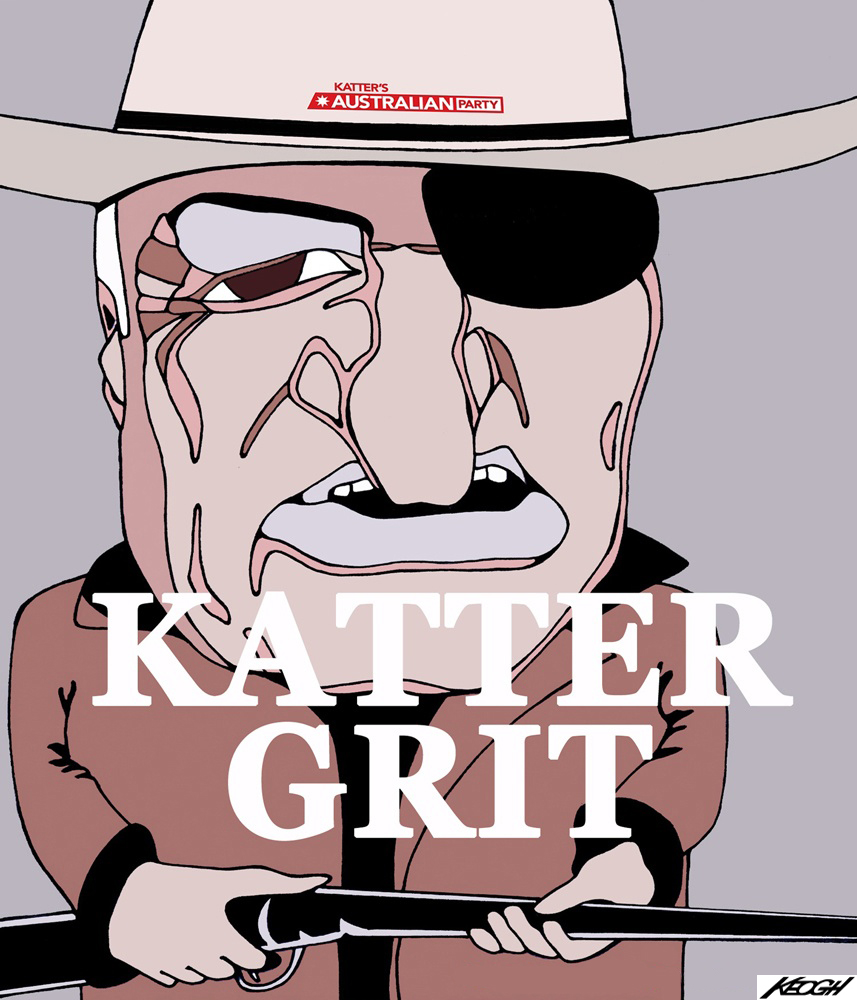 25 January 2013
John Wayne often portrayed larger than life cowboy characters who were quintessential heroes in white hats. Wayne was known for his conservative values and repeatedly expressed a personal distaste for homosexuality.
Kind of brings Bob Katter to mind doesn't it? Although the hero aspect is highly questionable. We can ascribe his larger than life status to his boofhead. "If I wasn't a boofhead, no one would know who I was" are indeed Katter's own words as cited in a Sydney Morning Herald column by Phillip Thomson.
In this column, online opinion writer Tory Shepherd is quoted: "Bob Katter wants a return to some mythical Wild West frontier land where decisions are made at 10 paces, gays are chased out of town with their pants around their ankles, and they kindly let the natives work the plantations"
Kind of reinforces the parallel, doesn't it?
On 24 January 2013, following comments equating homosexuality with pedophilia made by two dumped Katter's Australian Party candidates, Bob Katter appeared on Network Ten's The Project. When pressed by host Charlie Pickering for his views, Katter unskilfully shirked and sidestepped the issues.
The Australian, 25 January, reported on Bob Katter's appearance on The Project and also gave some Katter background snippets.

Enter John Wayne, aka Rooster Cogburn from the 1969 western film True Grit, with some of his notable quotes from that movie.

Are you ready Rooster? Here we go …

BOB Katter has refused to repudiate comments equating homosexuality with pedophilia made by two dumped Katter's Australian Party candidates.

The normally outspoken federal MP has refused to say whether he agreed with Bernard Gaynor and Tess Corbett, whose KAP memberships were yesterday suspended for arguing gays should be banned from working with children.

Rooster Cogburn: So I won't shoot my foot off.

"These issues are not relevant to what I am about in politics," he told Network Ten's The Project last night.

Rooster Cogburn: Young fella, if you're looking for trouble, I'll accommodate you. Otherwise, leave it alone … you get cross ways of me and you'll think a thousand of bricks have fell on you!

Mr Katter said "I don't know and I don't care" when asked about the future of Mr Gaynor, who was vying for a spot on KAP's Queensland Senate ticket for this year's federal election.

Rooster Cogburn: I ought to paddle your rump!

He said he was concerned by the problem of suicide by farmers but clashed with interviewers when he played down the issue of suicide by gay and lesbian Australians.

"I am not aware of a single person of that persuasion committing suicide amongst the people in Queensland," he said.

(Even Rooster Cogburn would have been speechless at the insensitivity of this.)

At the time he was interviewed, Mr Gaynor's KAP membership was still current. Victorian candidate Tess Corbett had earlier withdrawn her bid to run in the House of Representatives seat of Wannon.

Rooster Cogburn: By God. She reminds me of me.

The party later issued a statement saying it would not be used by candidates to talk up their "personal preoccupations".

Rooster Cogburn: I never shot nobody I didn't have to.

Mr Katter is on record as being anti-gay, once saying he would "walk backwards from Bourke to Brisbane" if a homosexual could be found living in his north Queensland seat of Kennedy.

Rooster Cogburn: Backward. I always go backward when I'm backin' away.

But he tempered his position last May, telling the Sydney Writers' Festival that he regretted the KAP had run anti-gay ads during the Queensland election. Mr Katter's gay half-brother Carl condemned the campaign ads as offensive.

Rooster Cogburn: (Brother), I was born game and I intend to go out that way.
Question: Bob Katter – TRUE GRIT or NITWIT?
Answer: If you live in Katter's electorate of Kennedy, the answer is apparently: TRUE GRIT