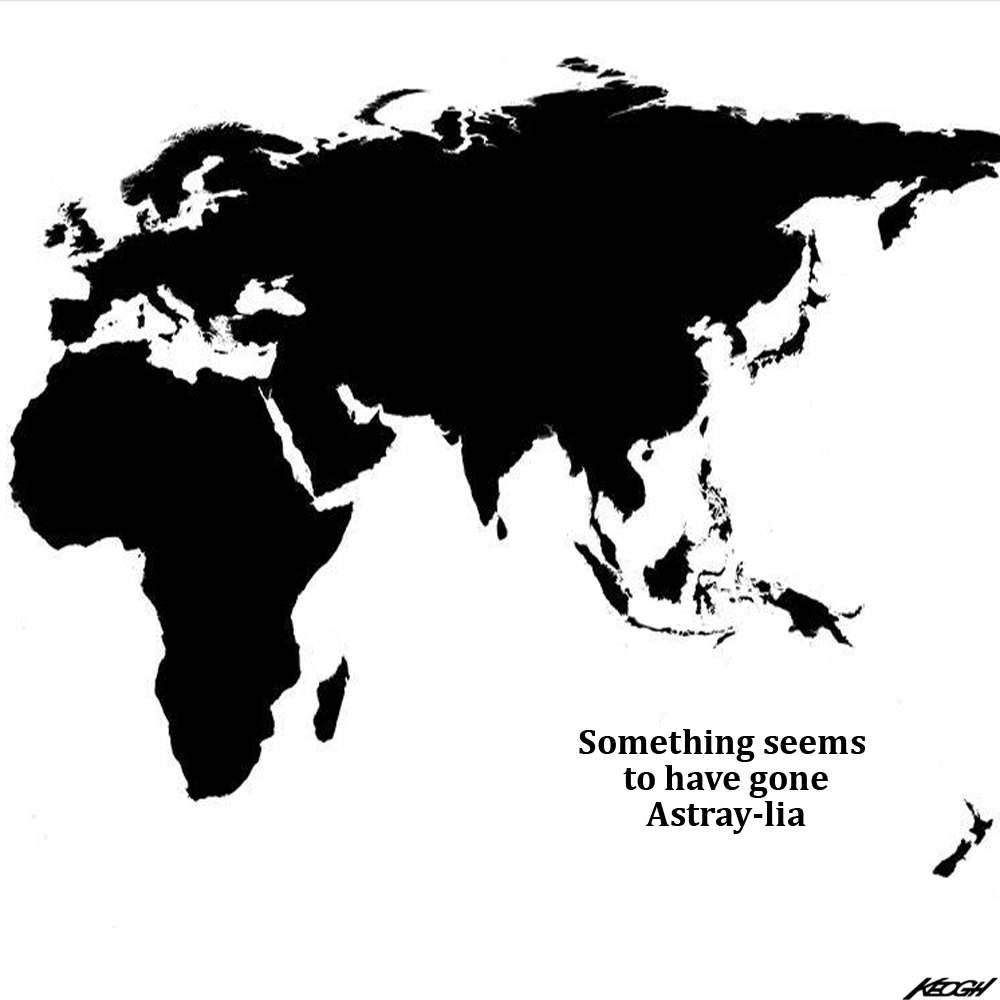 22 December 2013
Men and women of Australia
"We love football, meat pies, kangaroos and Holden cars". (YouTube) So went the famous 1970's Holden advertising jingle. A patronisingly corny attempt to beholden Australians to their remarkably unsophisticated sense of national identity. Holden was after all 'Australia's own car'.
Sadly, for thinking Australians, it was an extraordinarily successful campaign, which served to demonstrate our collective gullibility for national identity gibberish. The advertising 'geniuses' behind this campaign clearly recognised that Australia's sense of itself was so shallow that it could be capitalised on. And that they did with zeal.
The first car to be wholly manufactured in Australia was the Holden, launched in 1948. If Toyota quits Australia, it could be the second last. The first Holden design was based on a post-war Chevrolet proposal previously rejected by General Motors. Faint praise indeed for Australia. 'Australia's own car' was an American reject and as disingenuous as a shrimp on the Paul Hogan's barbie. 'Australia's own car' was a myth.
That awful jingle is tantalisingly ironic though. Did vegetarians decide not to buy Holdens? Were rugby followers turned off because the advertisement deemed football to be Australian Rules. And the fact that the great Australian meat pie often contained kangaroo meat, just added to the irony. Besides, kangaroos and Holden cars did not get on well – they had a habit of colliding on country roads.
But the irony was lost on most. The hypnotic jingoism won the day – nationwide.
Apparently, we had not progressed in self-definition since Henry Lawson's pieces in The Bulletin espoused our then collective colonial identity to be the 'spirit of mateship', as characterised in his poems on life in the bush. Interestingly, 'mateship', by definition, excluded women from this pseudo sense of nationalism.
The majority of Australians lived in the major cities. How could a national identity be based on a minority of Australians, living in the bush – a place most city folk had never experienced?
This does however beg a reasonable question? Did mateship live in the cities? Doubtful! Historically, city dwellers have been predominantly more concerned with materialism than any altruistic notions of 'mateship' or, in the urban context, 'love thy neighbour'.
To add irony to irony, The Bulletin which was supposedly the 'great levelling' journal, would have perished if it did not achieve significant urban circulation. It was as geared towards those of a materialistic bent as much any other section of society.
Nevertheless, the romanticism of the notion of 'the great Australian spirit of mateship', was so appealing that it was embraced with fervour across all sections of society.
Banjo Paterson's 'Waltzing Matilda' (YouTube) captured – and still does – the collective imagination with its melody and romanticising of the bush. But the content beggars belief. Our much-loved 'unofficial national anthem' is based on a mythical homeless transient who stole a sheep and committed suicide to avoid arrest. It's enough to make you cringe – and that is something Australians have always been good at – cringing.
Apart from, in my opinion, 'Waltzing Matilda', what caused the much-discussed Australian cringe? Was it borne of fear that we are unworthy of comparison with other nations and civilisations?
Who knows? But despite all the theories, one thing is certain – we have always been highly dependant on international approval in order to feel good about ourselves.
It is as if we are a newborn – desperate for oxygen in the form of international approval. We are apparently not willing to have the umbilical cord cut – living and breathing in our own right, and standing on our own two feet seems too daunting.
After all, we still have the flag of another nation in the corner of our own. Yet ironically, we have become as Americanised as Uncle Sam's index finger – "I wanted you. I got you" – perhaps!
Did we ever have a realistic, intelligent sense of identity? No! It has always been self-delusional. Myths, paradoxes and conundrums have always abounded.
By the time Ned Kelly was hanged in 1880, he had become a legend in his own right. He still is today. Along with his gang, he had stolen horses, robbed banks and killed three policemen. Kelly's Jerilderie letter shed light on his indignation at the oppression of the Irish and his under-dog status. The Australian psyche, with its love of the underdog, shifted from seeing Kelly as a murderous outlaw to folk hero of mythical proportions. How's that for a mystifying conundrum? Had Kelly been acquitted and become a wealthy property developer, his status would have shifted from underdog to tall poppy. Paradoxically, Australians love the underdog, but if he or she dares become too successful, they will turn nasty.
1901 saw federation. To this point, the island continent had consisted of a bunch of city-centric, disconnected colonies, with rivalry-driven differences over trade, tariffs and even rail gauges. The rivalry between Melbourne and Sydney over becoming the national capital was so intense that a brand new conundrum was born – Canberra.
Bulldust, the great Australian euphemism for bullshit, seems to be the substance on which the nation had thus far been built.
But blind allegiance to that grand old euphemism, 'Mother England' was, and still is the greatest conundrum of all. Certainly a euphemism for Barry McKenzie who hated the mother country, describing the English as "rotten pommie bastards". (YouTube)
In the film Barry McKenzie Holds His Own, the ever-erudite Bazza on British-Australian relations said:
Look, let me out of here. I mean, there'd be no Mother England if it wasn't for Australia. Our fighting men came over here when you Poms were ready to throw in the towel. Musso and them slimy yellow nips would've flattened this dump if it hadn't been for me uncles and their superlative fighting spirit. I mean the game was nearly up for youse poms, no risk. And if it hadn't been for Australia, Musso and them slant-eyed pricks would've strung every white kiddie up by the pills and gone chocka-block with all the nurses and bus conductresses. Oh look, let me outta here you ungrateful Pommy bastard!
Bazza was in rare company amongst 'notable' Australians who dared to challenge the motherland.
Similar sentiments, though more eloquent, were expressed by Paul Keating who, whilst Prime Minister used parliament to lambast Britain for its abandonment of Australian forces when Singapore fell to the Japanese in World War 2:
I was told that I did not learn respect at school. I learned one thing: I learned about self-respect and self-regard for Australia – not about some cultural cringe to a country which decided not to defend the Malayan peninsula, not to worry about Singapore and not to give us our troops back to keep ourselves free from Japanese domination.
John Curtin, who as Prime Minister during World War 2, had the courage to stand up to the Churchill, and brought troops back from the fronts of the Middle East to defend Australia against the Japanese. Churchill was furious – apparently Australia mattered less.
According to johndotcurtindotedudotau:
In early 1942 Curtin clashed with British Prime Minister Winston Churchill over the use of Australian troops overseas. Curtin's insistence that his troops return home to protect Australian soil was seen as a brave stand against a powerful ally. His personal anguish over the safety of the returning troops has become part of Australian folklore.
Australia as a nation is said to have been born at Gallipoli. Quite strange that the birth of a nation is perceived to have emanated from a monumental loss of life, created by a massive tactical blunder made by the top brass of in London.
Historian Jonathan King wrote in a recent article in The Age:
But having just published accounts by the last 10 Gallipoli Anzacs who I interviewed for my latest book – Tall Ships and Tall Tales – and also for a TV documentary funded by the Department of Veterans' Affairs, I cannot hold my tongue.

These last eye-witnesses all pleaded for us "not to glorify Gallipoli" because it was such a disaster and there was little to celebrate. I thought they were brave, but none were upbeat about their "heroic" achievements. Sydney's Corporal Ted Matthews, the world's last survivor of the landing, told me on camera, "Gallipoli was a failure because the British mucked the whole thing up." His comrade Trooper Len Hall said, "Oh yes, it was a terrible mistake altogether." Melbourne tunneller Roy Longmore said, "They landed us on the wrong beach." Sydney's Private Frank Kelly said, "It was ridiculous. The ridges we had to climb went on and on and got higher and higher. Anybody who tried to capture Gallipoli would have to have been mad!" They may have been disgruntled but they spoke the truth – hundreds also died of diseases in the dirty, overcrowded beachhead because leaders failed to provide sanitation or enough clean water or edible food; incompetent English high command appointed via the "old boy network" sent thousands of Australians "over the top" to certain death; the Anzacs only captured a small area and all had to retreat.
Australia's efforts in World War 1 to save the mother country, came at a huge human cost – 61,966  lives. And financial cost! Not only did Australia have to repay Britain for the cost of artillery and ammunition, it was expected to pay interest on the loans.
But Australians never wavered from their subservience and adoration of the mother country. In fact, Robert Menzies stated that it would be better that all Australians starve rather renege on repayments due to Britain.
The absurd immorality of this was lost on the majority. Delusional royalists believed that the sky would fall in if Australia dared any challenge that might upset the motherland.
Then a character called Jack Lang emerged. As Labor Premier of NSW, perceived by the right as a dangerous socialist, he was hell-bent on the completion of the Sydney Harbour Bridge, despite the depression, which had put huge pressure on the state budget.
Lang did the unthinkable. He reneged on the payments. His bridge workers and his beloved working class were more deserving. He dispensed with the tradition of royalty, or its appointed Governor of NSW, doing the honours, and decided to open the bridge himself. King George V was outraged.
More outraged were the extreme right royalists of Sydney. The New Guard was formed and Lang feared for his life. In fact, civil war was feared. But Lang proceeded with his intention to open the bridge. However, Captain de Groot of the New Guard stormed through the crowd on horseback to cut the ribbon with a sword. The ribbon was re-tied and Lang cut the ribbon with scissors.
This unparalleled display of extreme royalism and devotion to Britain is the most significant in Australian history. But there is little in Australian history to demonstrate much British devotion to us.
Britain had established an outpost at Sydney Cove in 1788 to rid itself of undesirables and lay claim to a hitherto land seen as inhospitable. Its other intention was find new timber for masts for its naval fleet. An empirical convenience at the time – no more, no less.
'Rule Britannia!' – and rule it did, expecting and receiving hypnotic servitude. No Australian Prime Minister was ever more mesmerised than Robert Menzies.
Per se, here is Menzies' public announcement in 1939:
Fellow Australians. It is my melancholy duty to inform you officially that in consequence of a persistence by Germany in her invasion of Poland, Great Britain has declared war upon her and that, as a result, Australia is also at war.
That's right! He actually said "As a result Australia is also at war!" And Australians dared not dispute the lack of logical subsequence, because subservience to Britain was second nature, as it was to all other members of the British Commonwealth. Now there's a misnomer – 'British Commonwealth'!
Whilst on the subject of Menzies, consider his announcement regarding Australian involvement in the Vietman War:
The Australian Government is now in receipt of a request from the Government of South Vietnam for further military assistance. We have decided – and this has been done after close consultation with the Government of the United States – to provide an infantry battalion for service in South Vietnam.
This was a lie. No such request was ever received from the Government of South Vietnam.
It is highly probable that Menzies would have followed this course of action in any case. But why did he lie? Whatever the reason, it just serves to compound the fact Australian history has been deeply flawed by falsehoods on a grand scale.
At this point, let's not forget the genocide and maltreatment inflicted on the Aboriginal population – our original inhabitants who worshipped the land that our predecessors desecrated.
However, Australians have done many great things in science, literature, the arts in all its forms, sport and a plethora of other fields. Why can we not be an enlightened nation with a belief in our true identity, based on our many real accomplishments? A robust, multi-cultural and humanitarian society, taking pride in its unique place in the world.
Why can we not be a republic with an Australian head of state?
The next in line to the British throne is an adulterous man known as Charlie. His taped phone conversation with his mistress, Camilla Parker Bowles, whilst married to Princess Diana, included a wistful remark that he would like to be his lover's tampon.
Just the sort of person we need as our next head of state!
That illegal taping was first released by New Idea, the Australian women's magazine then part of Rupert Murdoch's media empire, in January 1993.
And there's conundrum wrapped in a paradox – Rupert – who holds more power and control over Australia through his media influence than our 'democratically' elected Prime Minister, who co-incidentally and ironically got the top job thanks to Rupert himself. Murdoch's influence, particularly through Sydney's Daily Telegraph's blatant and bizarre pre-election anti-Labor bigotry-come-propaganda, was influential in winning the all-important Western Sydney vote in determining the 2013 national election result.
There was a popular saying when I was a kid at school if, for example, anyone dropped an easy cricket catch. It went: "Wake up Australia, the country needs you". Little did I realise that in later life I would come to realise the true significance of that epithet!
Indeed! Wake up Australia, the country needs you. But you appear to be anaesthetised. A good opportunity for some radical surgery!
In conclusion, I repeat: Why can we not be an enlightened nation with a belief in our true identity, based on our many real accomplishments? A robust, multi-cultural and humanitarian society, taking pride in its unique place in the world.
As John Lennon sang: "You may say I'm a dreamer, but I'm not the only one." No, I am not the only one. There are all of you here tonight, who I am confident agree with me wholeheartedly.
Thank you to all five of you for attending the Annual General Meeting of A.N.A.E.S.T.H.E.T.I.C. – the Australian National Association for the Eradication of Sociopolitical Heedlessness of Enlightened Thinking Intelligent Citizens.
It appears that you have all nodded off.
I rest my case!
Good evening.