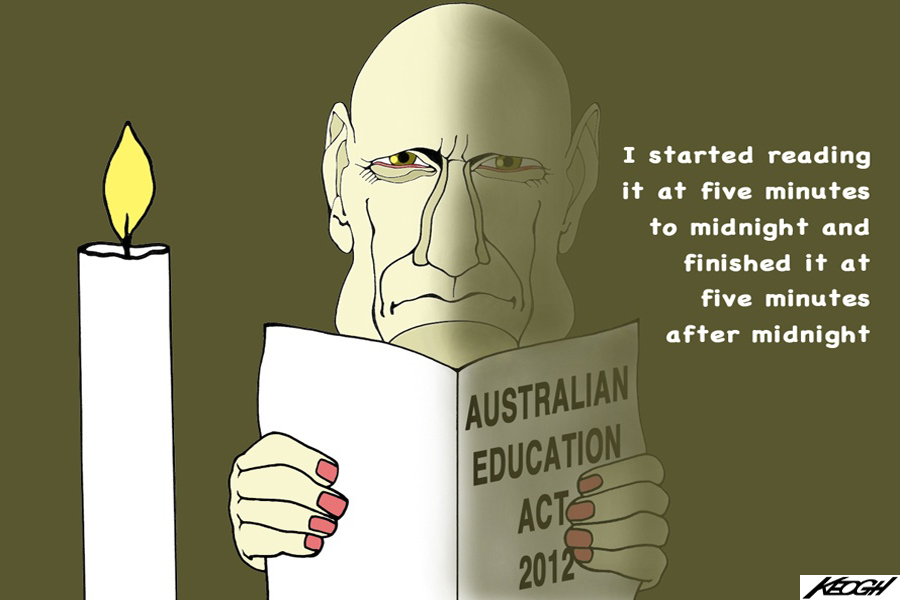 28 November 2012
Let's get this legislation through before the end of the year. A great way to end 2012, with me taking the high moral ground on education. Imagine that – me – moral! Suits me, don't you think?
No-one would possibly disagree with Gonski's proposal that federal and state governments should collaborate to fund schools according to their needs – not even Abbott or Pyne. They wouldn't dare. Everyone would agree that education reform, with better and more equitable funding, is worthwhile. The states can't disagree – it's the Gonski way or no way. They know that.
It's a gimme! We'll call it the '3 G's of Education' – Gillard, Gonski and Garrett. But who thought of the whole thing in the first place? Me!
Sure! This bill has glaring shortcomings – it's wafer thin, has no substance and is legislation that doesn't legislate. There are no funds allocated, no new agency, no new requirements or regulations.
But we're going to get away with it!
We're even going to take another audacious step and call it "the most important bill of 2012″. What genius thought of that? Me!
I don't even know how it will be funded, if it ever will be. We'll just say that it will depend on negotiations with the states as they proceed. That's our tactic to avoid the nitty gritty – not that there is any nitty gritty.
This is political perfection. Big promises, no-strings-attached-funding and huge electoral appeal.
Thanks to Tony Abbott, God bless his soul, his 'Dr No' image has played right into our hands. If the Coalition-led states try to block Gonski, they are seen to be negative naysayers, just like him. He has already tainted his and other coalitions, and they are in damage-control mode.
And even better –  if they agree – they are seen as disowning him. Tony hates it when anyone agrees with us.
It's win-win for us, lose-lose for them.
Now Peter, take this copy home and study it. It won't take long. Get out there tomorrow strut your stuff.
Before you go, could you please sing a few bars of Power and the Passion?
Who is the queen of opportunism standing on high moral ground? Me!
Imagine that – me – Queen Julia! Suits me don't you think?