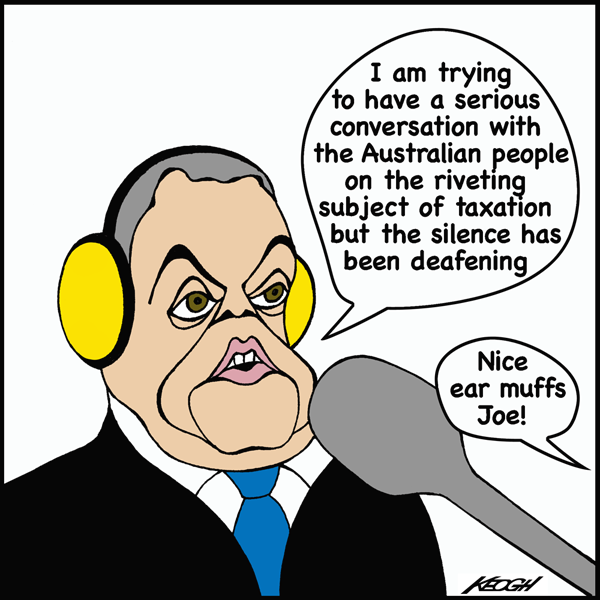 Joe Hockey Federal Treasurer Wikipedia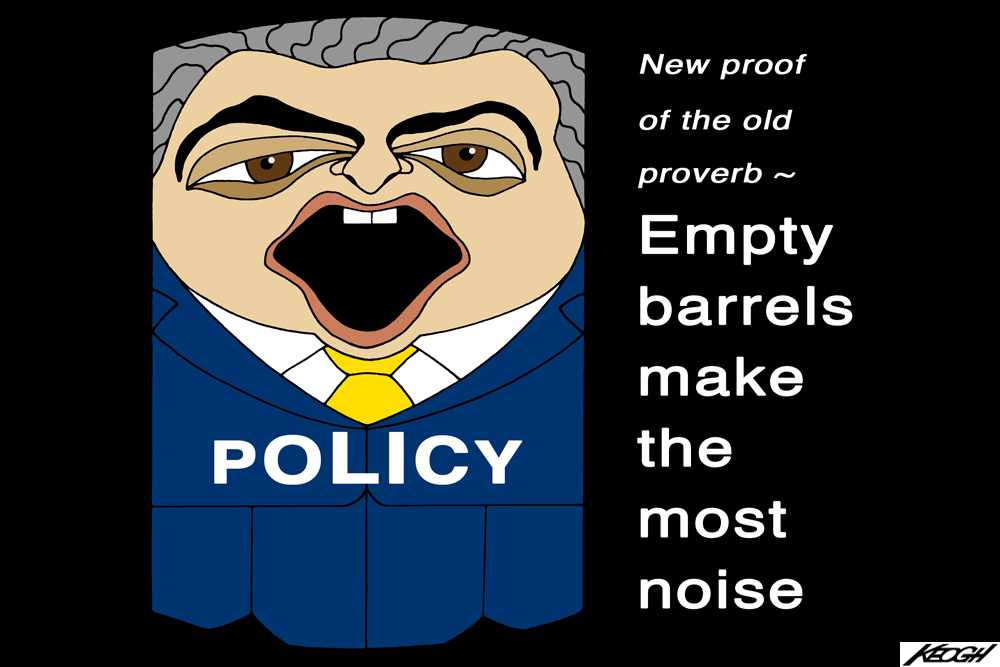 Thursday 4 July 2013
He is big, he is loud and he has a lot to say, but the substance of what Joe Hockey says has a deafeningly empty resonance. 'Empty barrels make the most noise' as the old proverb goes.
At 7.10 on Tuesday evening , knowing that Joe Hockey was going to be interviewed on 7.30, I grabbed a stiff whisky. At 7.20 I decided I needed another one. At 7.30, I felt fortified enough to face 7.30.
And I was not disappointed – well I was disappointed and I expected to be disappointed, so I was not disappointed. It was painful.
I often wish canned laughter could be inserted into these inane interviews where questions are dodged, answers are non-answers, alternative policies are not espoused and twaddle rules with negativity, rhetoric, spin, slogans and gross exaggeration – no substance – just denigration of the other side – rarely backed up rational argument, let alone facts. And that becomes irresponsible, particularly when talking about the economy, which is ultra-sensitive to pessimism.
The question is not whether Joe should become Australia's next Treasurer, it is whether to laugh, cry or get angry.
If you are brave enough, click here for the ABC 7.30 post (2 July 2013) headed: Joe Hockey says way to help 'most vulnerable' is budget surplus
Frustration has got the better of me, so I will take to the 7.30 transcript with RED CAPITALS.
Pass me the Black Douglas will you please?
Deep breath! Here I go …
LEIGH SALES, PRESENTER: Since Kevin Rudd was restored to the Prime Ministership he spent most of the past six days behind closed doors with his colleagues planning how he will run the country and fight the coming election.

The economy will be front and centre of the campaign as both parties wrestle with how to play for multibillion dollar plans, how to restore the budget to surplus and how to dump or rework the carbon tax without plunging the Budget deeper into the red. Today the Reserve Bank kept interest rates on hold in response to volatility in the stock market and lower levels of mining investment.

The Shadow Treasurer Joe Hockey, is the man in the hot seat for the Coalition, and he joined me tonight from Canberra.

Mr Hockey, the new Treasurer Chris Bowen, today called out the Opposition for its use of the term 'fiscal emergency' to describe Australia's economic position. And he pointed out that Australia has low interest rates, low inflation and unemployment, solid economic growth and a triple A credit rating. Do you agree that overstating your argument undermines it?

JOE HOCKEY, SHADOW TREASURER: Not at all, Leigh. If everything was going so swimmingly why isn't Labor delivering a much promised surplus? It is because they don't know how to live within their means. And that means that we are facing greater challenges in a weakened position. A weakened position because Labor is leaving a legacy of deficits, ongoing deficits and over $340 billion of debt. JOE, YOU "SAID NOT AT ALL" THEN EFFECTIVELY AGREED WITH THE PREMISE OF THE QUESTION BY IRRESPONSIBLY UNDERMINING THE ECONOMY AGAIN. BESIDES, LEADING ECONOMISTS AGREE THAT A BUDGET SURPLUS IS NOT THE BE ALL AND END ALL.

LEIGH SALES: Prime Minister Rudd has invited the Opposition Leader Tony Abbott to debate him at the National Press Club on debt and deficit. Why are you scared to do that?

JOE HOCKEY: We're not scared.

LEIGH SALES: Why don't you do it?

JOE HOCKEY: This is the same old Kevin. This is the same old Kevin Rudd. A leopard doesn't change his spots, he won't tell us what the debt is, he won't tell us what the deficit is. BUT …

LEIGH SALES: You've seen the Budget papers.

JOE HOCKEY: And last Thursday in Parliament, Leigh, Kevin Rudd wouldn't stand by the Budget. BUT HANG ON …

LEIGH SALES: Well today Chris Bowen, the new Treasurer, has said, "I stand by the Budget predictions that were put out in May, that is the Government's Budget and all the forecasts in there are the forecasts that we stand by." ISN'T THAT ENOUGH PROOF FOR YOU, JOE?

JOE HOCKEY: That's right, it's taken seven days for them to stand by the Budget. SO WHAT IF IT TOOK SEVEN DAYS? QUICK GET-OUT-OF- GAOL THERE, JOE! But even so Kevin Rudd has not done it himself. BUT YOU SAID "THEM" WHICH WOULD, BY DEFINITION, INCLUDE RUDD. Yet he wants to have a debate about deficit and debt. Well bring it on. He is the master of deficit and debt. CHEAP SHOT. SOUNDS LIKE JOE IS SCARED OF A DEBATE ON DEFICIT AND DEBT – KEVIN MIGHT TAKE THE WIND OUT OF THE OPPOSITION'S BUDGET DEFICIT SCARE CAMPAIGN.

LEIGH SALES: But he has brought it on, so why don't you go and meet him? If you're on such strong ground as you say, you must be loving the opportunity to debate him.

JOE HOCKEY: We look forward to it.

LEIGH SALES: In the National Press Club you accept that invitation?

JOE HOCKEY: I'm happy to debate anyone, any time.

LEIGH SALES: Is Tony Abbott happy to lead this debate? So yes that debate's going to happen?

JOE HOCKEY: Yeah it will happen, HOWEVER, TODAY IT WAS REPORTED THAT TONY ABBOTT HAS REJECTED CALLS FROM LABOR TO HOLD A DEBATE NEXT WEEK AT THE NATIONAL PRESS CLUB, CLAIMING KEVIN RUDD WAS INDULGING IN A STUNT BECAUSE HE HAD NO POLICY PLATFORM. BLACK KETTLES ABOUND! but they've got to call the election. They've got to call the election. COP OUT! HOWEVER, KEVIN RUDD IN HIS INTERVIEW WITH AFR WEEKEND SAID THAT HE WAS NOT AVERSE TO DEBATING HIM [ABBOTT] MORE THAN ONCE WHEN THE ELECTION CAMPAIGN PROPER BEGAN. Labor is creating uncertainty by not giving Australia an election date. We had one a week ago, apparently now we do not have an election date and as the head of the Business Council, Tony Shepherd said today, this uncertainty is destabilising business. It's undermining business and consumer confidence and I say to Kevin Rudd "if you care for Australia more than you care for yourself call an election now." AND JUST WHO IS UNDERMINING BUSINESS WITH THE RECKLESS GROSS EXAGGERATION OF 'FISCAL EMERGENCY"?
Then Leigh Sales went on to "explore some of your policies."
And the excruciation continued, per se the 7.30 post heading, Joe Hockey says way to help 'most vulnerable' is budget surplus, which highlights Joe's furphy that, "You can only do it by having a surplus and having excess capacity to help those most vulnerable in the community."
Furphy! That superbly appropriate term was used by Alan Austin in an Independent Australia article back in May, in which Austin lamented that, "it is hoped he who would be Treasurer would display some grasp of economics".
Click here for Alan Austin's piece titled: Sloppy Joe Hockey's 15 biggest Press Club furphies
Written by Bruce Keogh