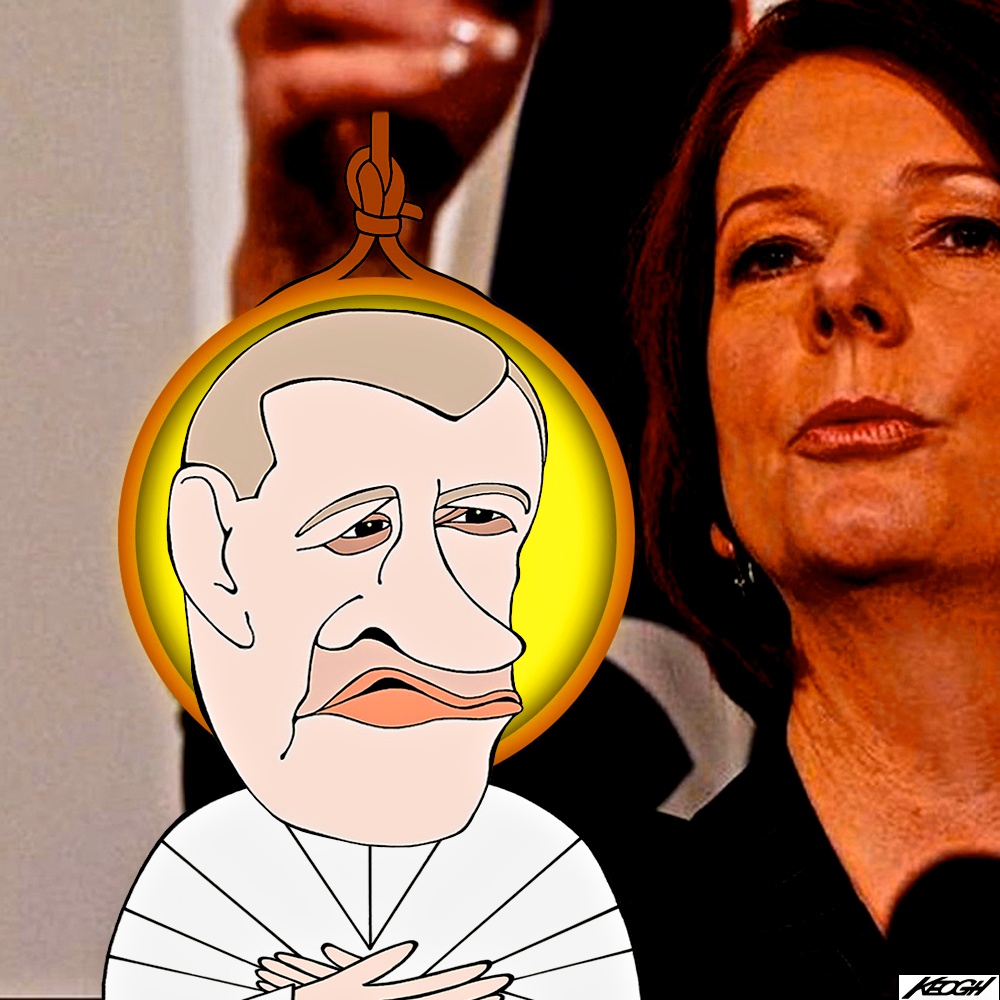 24 March 2013
CONSPIRACY THEORY: Kevin Rudd is a cunning character whose game-playing had not been seen through by even his own supporters.
Kevin Rudd's sole aim has been to fiendishly plot the ruination of the party that dumped him from the prime ministership – and if his own supporters lose their seats, so be it.
He routinely authorised his supporters to leak damaging stories to the media with the singular purpose of destabilising Prime Minister Julia Gillard. And it worked.
He made many and varied media appearances, clearly designed to bolster his own popularity – as if to be a pretender – in both senses of the word. And the polls had him way ahead of Gillard as preferred prime minister.
He knew that Gillard was becoming increasingly unpopular in her own party and that numbers were shifting his way.
He could see that Labor would be massacred in the September 14 election and that only he, as leader could save the party from that.
He continued to set the trap.
The bitter Gillard/Rudd divisions within Labor were sinking the party and destroying the credibility of both sides.
The Gillard government had become dysfunctional.
And so, as if following Rudd's script, Labor veteran Simon Crean decided that something had to be done to save his beloved party from ruin.
Crean, a long-time supporter of Gillard had also become disenchanted with her, and could see that Rudd resuming the leadership was the only possible hope.
"Saint" Simon did the honourable thing and called for a leadership spill for the good of the Labor party. He announced his support for Rudd, knowing that he would be sent to the back benches if Rudd lost.
Simon had received assurances from the Rudd camp that Rudd would contest.
But Rudd did not contest!
Why?
Because Kevin knew that by not standing, he would throw the party into absolute chaos, making it look an even more farcical shambles with a greater likelihood of being sent into oblivion come September. And it worked!
Rudd's own supporters are furious with him. Why had they bothered to support someone who would back out of a challenge? Gillard has now relegated them to obscurity.
But Kevin doesn't care. He never intended to become Labor leader again and has achieved what he set out to do – destroy the whole party.
Now, the even-more-damaged Gillard, who has lost a swag of pro-Rudd talent from her ministry, is looking more vulnerable, no longer from Rudd, but from the electorate which is more than fed up with the dysfunction and bizarre power plays, which are due in part to Rudd himself.
Cunning Kevin!
SIMPLE SIMON OR SAINT SIMON?
Saint Simon? The spill was initiated by Simon Crean who was saint-like enough to put himself on the line for the good of the party.
Simple Simon? He was silly to believe Rudd, who he decided to support, and who was delivering directives to him via his supporters.
BUT …
As it turns out, Crean has done Gillard a huge favour – but he has been sacked by her. As Michael Gordon wrote in The Saturday Age on 23 March 2013:
"The bitter irony of the coup that collapsed is that the man who did Julia Gillard the biggest service pays the heaviest price. Simon Crean has not only removed the threat of Kevin Rudd, he has done more than any other individual to end the destabilisation of Gillard and give her prime ministership a fresh start. Now he's in exile.
Thanks to Crean, Gillard is more in charge of her destiny than at any point since her 2010 campaign was sabotaged from within and by some poor judgment calls. The upside is that she can govern with more confidence and less concern about being undermined; the consequence is that she will be held singularly responsible for Labor's performance at the looming election."