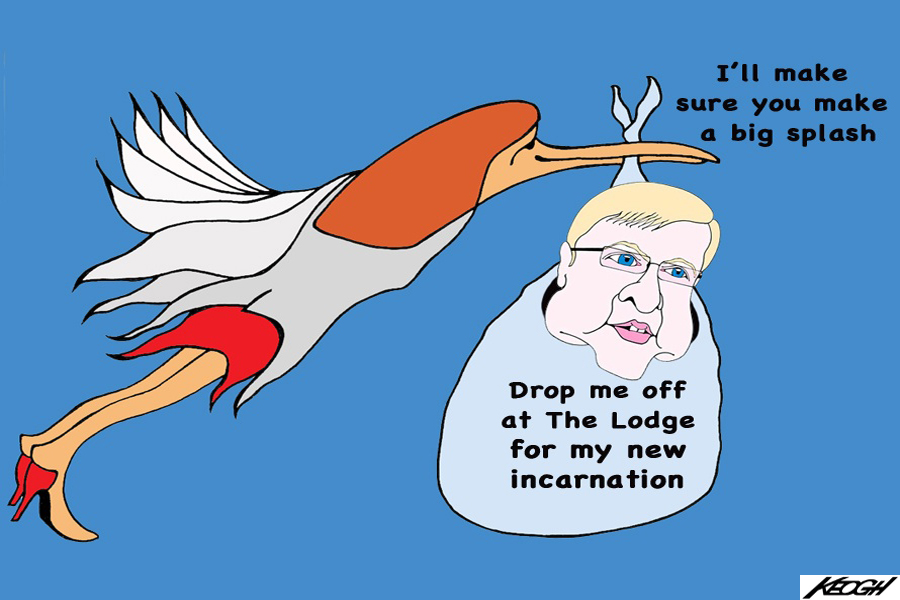 1 November 2012
Stork: So you want to go to The Lodge. Didn't I drop you off there in 2007?
Baby: That was my last incarnation. I want to go there again. I am a new person as you might have noticed on my recent TV appearances. I've been making quite a splash.
Stork: But the nice couple who live there don't want kids. Besides, the lady of the house helped you get there in the first place and she doesn't want you back. She is staying put and not moving out for a baby-faced upstart like you.
Baby: I had so much faith in her, but she dumped me and then she moved in.
Stork: But you were very badly behaved weren't you? All those tantrums!
Baby: Just a minute. Now I know who you are – you are her in disguise.
Stork: Gotcha! You thought you were pulling a swiftie on me. A sneaky way to get to The Lodge. Get ready for your second dumping – from a great height. It won't be on TV but you will make quite a splash.
Baby: But you are supposed to be a giver of life, not a taker.
Stork: Look! I am just a mythical being disguising the truth about how prime ministers are really born. I also disguise the truth about how they are killed off. As you well know, I am an expert at both.
Baby: I am the rightful Prime Minister and I intend to be re-incarnated no matter what it takes. Could you drop me off in a cabbage patch?
Stork: You are delusional.
 The Drum – Robert Macklin: Can you forgive and forget, Kevin Rudd?