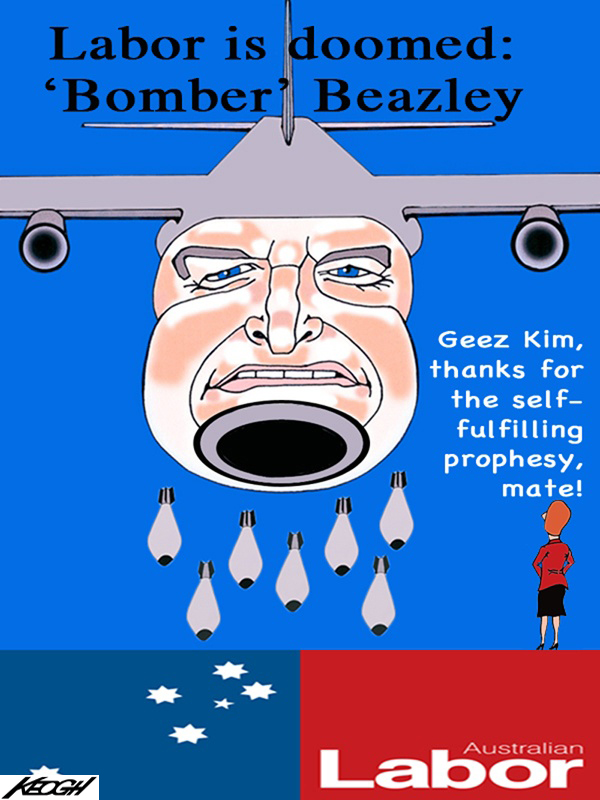 31 July 2012
May I introduce myself? I'm Kim Beazley and as Australia's Ambassador to the United States, I don't comment on Australian politics, but since you asked, I would say that Labor has as much chance of winning the next election as I do of shooting an elephant in my pyjamas. I couldn't imagine why an elephant would be wearing my pyjamas, but I'm sure they would fit OK.
And speaking of unlikely escapades, would you believe that I was once, well twice actually, the Leader of the Australian Labor Party?
I lost two elections and never got to be Prime Minister, so I am an expert on Labor doom and gloom.
I was going really well coming up to my third election campaign, until I got some names mixed up. I referred to Rove McManus, a TV host whose wife had just died, as Karl Rove, your President's advisor at the time. Simple enough mistake to make, but Labor didn't see it that way, so they dumped me. And that was the second time!
Err …where was I? Oh yes. I would say that it would not matter whether Labor was led by Julia Rudd or Kevin Gillard – Labor will get trounced either way. They are doomed.
A leadership change won't make any difference. It doesn't matter who leads the party, just like it didn't matter who led the party when they dumped me in 2006. I had led the party to near oblivion and that little Kevin fella thought he could turn things around. Boy, was he full of himself!
And if you think I'm kicking a man when he's down, bad luck, they did it to me. They put the party before the great Kim Beazley – twice!
So a truck-load of bombshells is what they need from me. They don't call me Bomber Beazley for nothing!
I'm not fazed if my comments become an electorally damaging, self-fulfilling propheshy back home. Stiff chips.
Speaking of truck-loads and chips, have my fish and chips arrived?
(With apologies to Groucho Marx for the elephant gag)