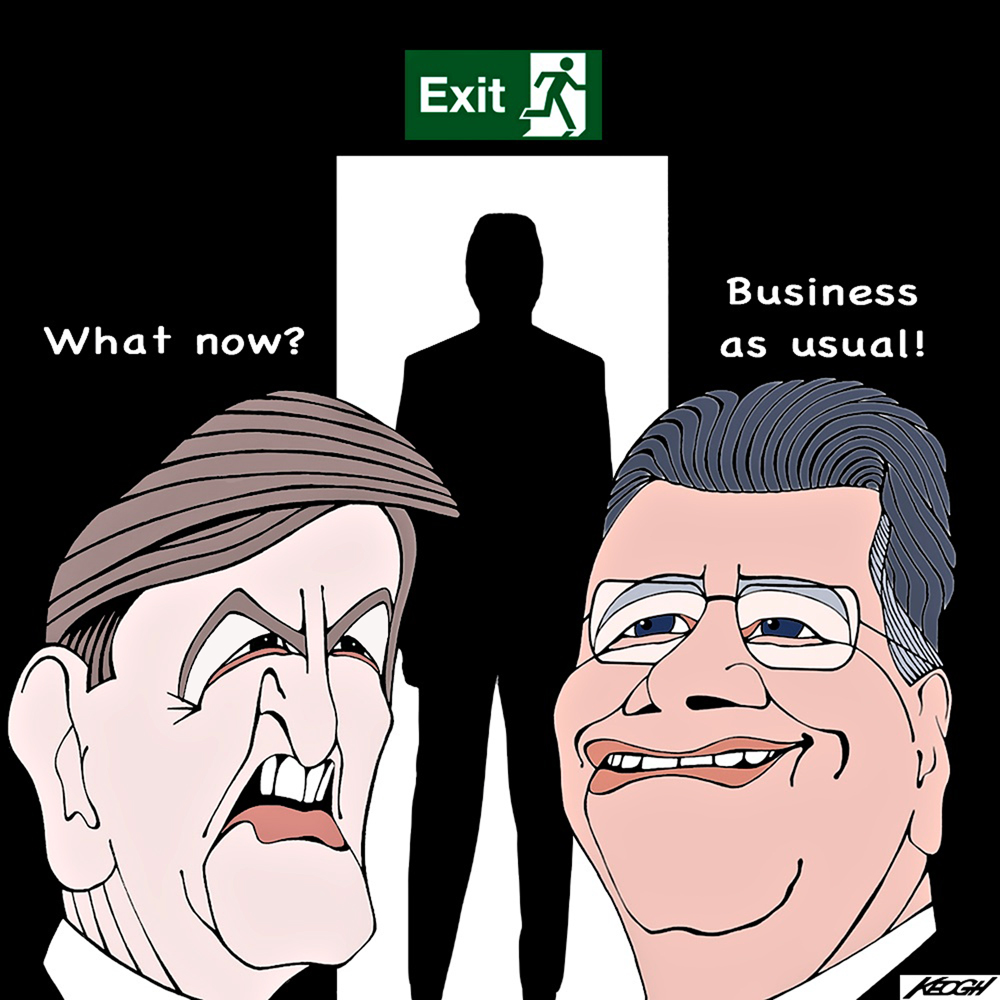 13 March 2013
Knowing that he has taken the helm of a sinking shop, new Victorian Premier Denis Napthine has announced that he will introduce a bill into State Parliament to legalise voluntary euthanasia, so that his government can avoid a slow, agonising death. The Voluntary Euthanasia Termination Bill (VET) has been cleverly acronymised by former rural veterinarian Napthine who is experienced in mercy killings of suffering beasts.
However, it is doubtful that Geoff Shaw, the disgraced rebel Liberal Frankston MP, now independent, who now holds the balance of power in the lower house, will vote with the Coalition. Mr Shaw, an avowed Christian who inflicted life-threatening wounds on the already feeble government, is opposed to euthanasia and likely to deny the government's dying wish.
Cruel ironies and a protracted demise for the government which foolishly buttressed Mr Shaw, who has been under investigation by the police and the parliamentary privileges committee.
And so, with a flash of brilliance and a stroke of genius, only days after taking over from Ted Baillieu as premier, Mr Napthine's message was "business as usual".
"Business as usual" – sure-fire euthanasia. A brilliant tactic to ensure a quick, clean political death. After all, "business as usual" is the government's formula for disaster that got him into the top job, and with this level of premeditated self-sabotage will quickly get him out of it. That must be why he likes "business as usual" so much!
"Let's get this over and done with and go out in grand style" could be another interpretation of "business as usual".
Victorians are at their wits' end and are desperate to get rid of this lot – almost as desperate as this lot is to get rid of itself.
But Victoria is locked into fixed parliamentary terms and there are still two years to run.
What to do to hasten the inevitable?
Geoff Shaw has agreed to vote with the Coalition on budget and confidence motions, but it has been cynically suggested that in this unwritten pact is the proviso of a boost to parliamentary superannuation for recently elected MPs – which includes Geoff Shaw – of course!
Political dynamite! To light the fuse or not?
Of course Napthine should light the fuse – the more political carnage the better. But wait – there's more!
The premier should give in to Shaw's long-standing superannuation request on the condition that he blocks confidence and budget motions. Then there can be a dissolution of the Legislative Assembly. Under Section 8A of the Constitution Act, an early election can be called in these circumstances.
The Victorian Liberal National Coalition Government will be no more.
Halleluiah! Euthanasia without all the trouble of passing a bill!
And so, mothballs for Mr Naptahlene.
PS: The Constitution Act does not appear to contain provision for the likes of a Voluntary Euthanasia Termination Act.
To its undying credit, this dying government has magnanimously drafted a list of recommendations for the benefit of future generations of state politicians, setting out what NOT to do.
DO NOT elect a party leader who does not want to be premier.
DO NOT make election promises that you cannot fulfil, because you could win.
DO NOT preach openness and transparency and then subvert the Freedom of Information process.
DO NOT discuss matters involving dirty deals and corruption over the phone.
DO NOT get caught undermining an inherited the Chief Commissioner of Police.
DO NOT let internal frictions and disunity fester indefinitely.
DO NOT stifle the economy with budget cuts when faced with a recession.
DO NOT let the economy slip into recession.
DO NOT be over-cautious, indecisive and slow to act.
DO NOT mistreat nurses, teachers and paramedics.
DO NOT slash TAFE and hospital funding.
DO NOT stand by a disgraced member even if his vote is vital.
DO NOT do parliamentary superannuation deals with a disgraced member even if his vote is vital.
DO NOT treat the electorate with contempt.
DO NOT treat the media with contempt.
DO NOT change leader without explaining why.
DO NOT forget to govern.
DO NOT be stupid because being stupid is just stupid.