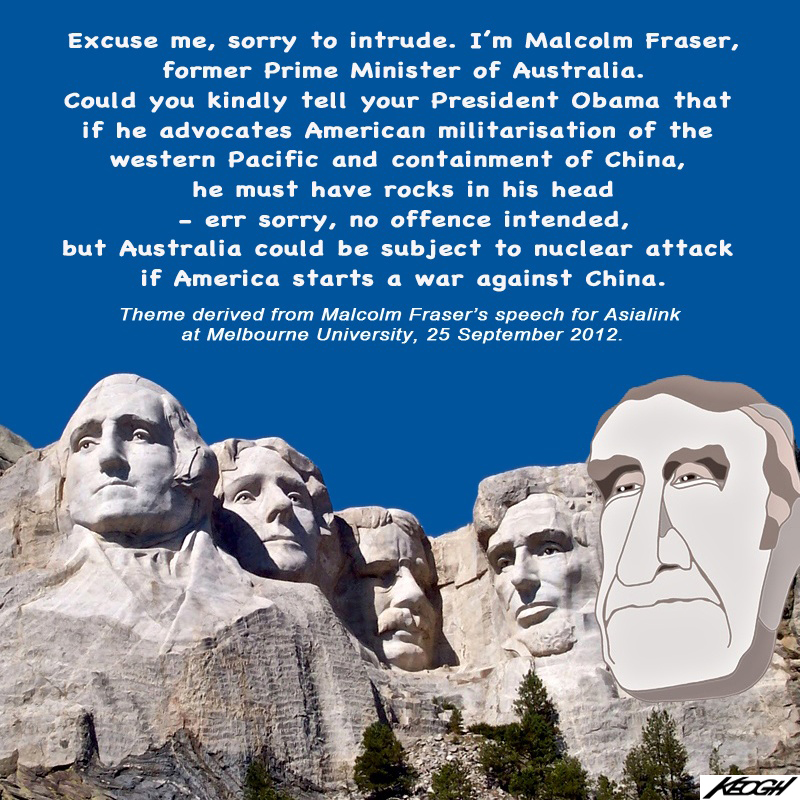 25 September 2012 
Here is a satirical interpretation of a speech by Malcolm Fraser to the University of Melbourne's Asialink Centre on US-Australian relations in this 'Asian Century'.
See that kid over there. His name is America and he is the schoolyard bully.
He loves to flex his muscles and pick fights. He is really sneaky because he makes out that he is doing this for the good of the whole playground by getting rid of the 'bad' kids. But everyone knows he has hidden agendas.
The trouble with America is that he is not very smart, like most bullies, and he hasn't won many fights anyway.
Once, he took on North Vietnam, but when he knew he couldn't win, he ran away.
He tried Iraq and Afghanistan but couldn't win those fights either.
You would think he might have learnt his lesson by now, but he hasn't. He is so obsessed with being the ruler of the whole playground that he has decided to pick on the biggest kid in the school – China – just because he is scared that China might get too big for his boots.
America has always known that he can't win fights all on his own. He has always sucked in other kids to help him, using all sorts of tricks. He told everyone that Iraq had weapons of mass destruction. That got kids scared so they decided to help America. But Iraq didn't have any of those weapons. I reckon America wanted Iraq's oil. That's what you call a hidden agenda.
Now America is using stand-over tactics on Australia to get control of the Western Pacific and South East Asia region. That's where Australia is in the schoolyard and it's the best place to be to pick a fight with China.
America said to Australia, "If you don't do what I say, I won't help you when China attacks you." That's what you call a stand-over tactic. So Australia agreed, even though Australia has excellent trade relations with China, and China had no intention of attacking him – but now it might if America starts a fight. Australia could get hurt.
How stupid is Australia? He was safe in the first place and had nothing to worry about. Now he isn't safe and has got plenty to worry about.
Guess America must be smarter than I thought!
Click here for an edited extract with a link to the full speech in text and video on the Asialink site