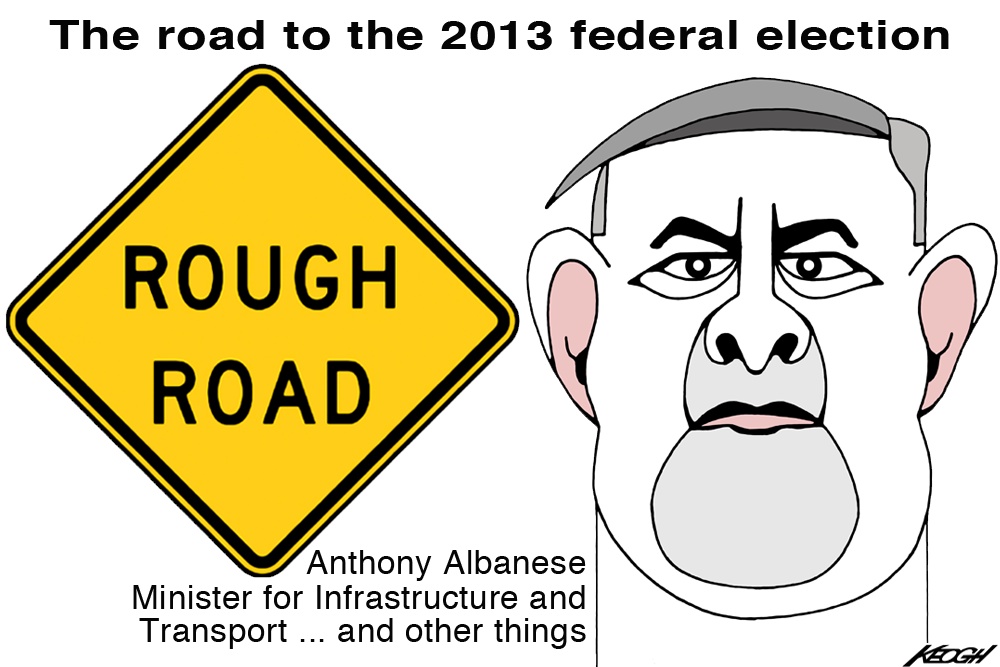 5 August 2013
Anthony Norman Albanese (born 2 March 1963) is an Australian politician who is the current Deputy Prime Minister of Australia and the Deputy Leader of the Labor Party. He is also the Minister for Infrastructure and Transport, the Minister for Broadband, Communications and the Digital Economy and the Leader of the House of Representatives. He has represented Grayndler in the Australian House of Representatives since 1996.
Albanese has been described as "Labor's Parliamentary go-to man, a bloke with willingness and enthusiasm for fronting up – whether at the Dispatch Box, to protesters or even in backing a losing leadership candidate" ……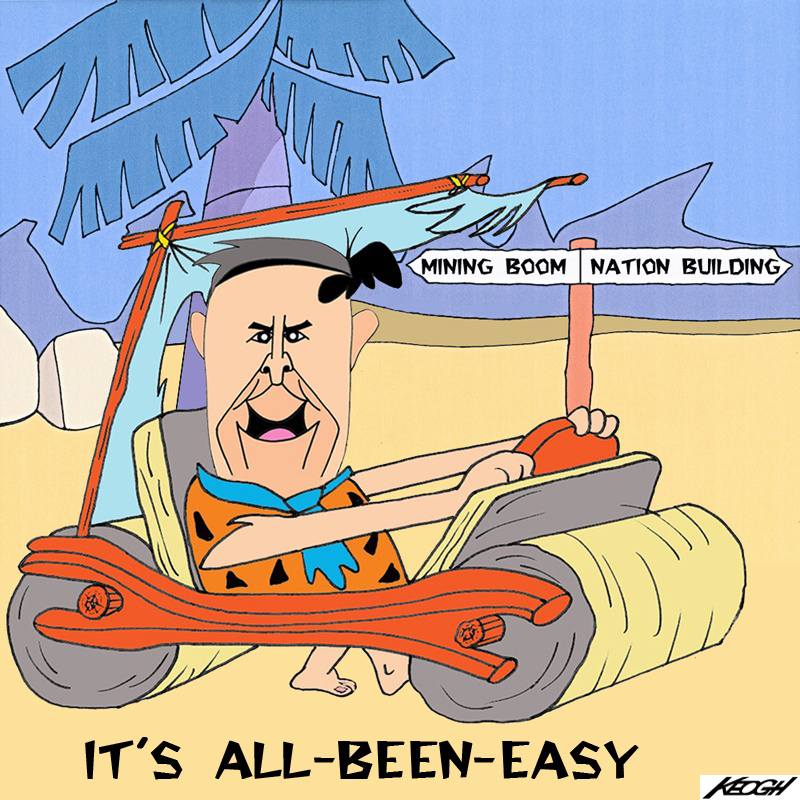 24 January 2013
AUSTRALIA must fast-track new roads, railways, bridges and ports to secure prosperity as the mining boom fades, key members of the Reserve Bank have warned
– Courier Mail 24 January 2013
This article introduction inspired this cartoon depicting Anthony Albanese, Minister for Infrastructure and Transport, as Fred Flintstone – from MINING BOOM to NATION BUILDING.
It was impossible to resist!
There is quite a likeness, don't you think?
Coincidentally, just as Fred Flintstone is an animated and funny character, so too can Anthony Albanese be – as you may well have noticed!
As a prime example, let's go back to the last day of parliament for 2012, when Albanese rose to his feet to deliver his Christmas Valedictory (Hansard).
The speech did include serious reference to his portfolio, so let's get that out of the way first:
In my portfolio, this year we got the largest, most significant shipping reform done across the board. We had legislation relating to national regulators for heavy vehicles, maritime and rail. We have continued to roll out the largest Commonwealth investment in infrastructure in Australia's history, with the doubling of the roads budget, the increase of the rail budget by more than 10 times and a commitment to urban public transport greater than all governments combined in the previous 107 years from Federation up to 2007.
Now for the droll and dry witticisms (with interesting insights) that interspersed the speech:
As much as I would appreciate everyone waiting for my valedictory, there is no need ……

To the Prime Minister, Julia Gillard—as she said, I do like fighting Tories. The Prime Minister and I have worked together on a basis of five or six meetings a day. I thank her for her trust in my judgement. From time to time, that has to happen as Leader of the House ……

To my mate, the Treasurer, Wayne Swan, we have a meal together every Sunday night, which probably means I have more dinners with Wayne than I have with my own family on Sunday nights. We have enjoyed a close relationship in portfolio also. I find it is always good to have the Treasurer on side when you are the Minister for Infrastructure ……

To the Chief Government Whip, the member for Hunter, we had a very enjoyable night at the end of the year when I attended the Souths versus Newcastle game with him. It was almost a good night until Greg Inglis took out Uate, and that made sure that the Newcastle home based crowd were disappointed that night ……

To the crossbenchers I say that I spend perhaps more time with them than is healthy for any of us. But the fact is that we have a relationship in which we trust each other's words ……

To my opposite number, the member for Sturt, I say that I got an email the other week—and I do not know if he got this—that showed us in a photograph being friendly towards each other in spite of the fact that it was taken on a particularly rancorous day in the parliament. The member for Sturt is someone who is of good spirit ……

I wish all the other members of the opposition a good and safe festive season, particularly the Leader of the Nationals, as he is the shadow minister for infrastructure and transport ……

I also thank my branch members, party officials and supporters—in an election year, which is coming up, it is always wise to remember your base …..

In terms of my own family, to my wife, Carmel Tebbutt, and to my son, Nathan … My son starts high school next year. He has had an experience whereby for a majority of his life he has had two parents who are ministers, one in state government and one in federal government … Carmel certainly has a great deal more political support both within and outside the Labor Party. I do not think she has an enemy in politics, which is something I am not in a position to claim ……

I wish the House all the best.
 Yabba Dabba Doo!!!