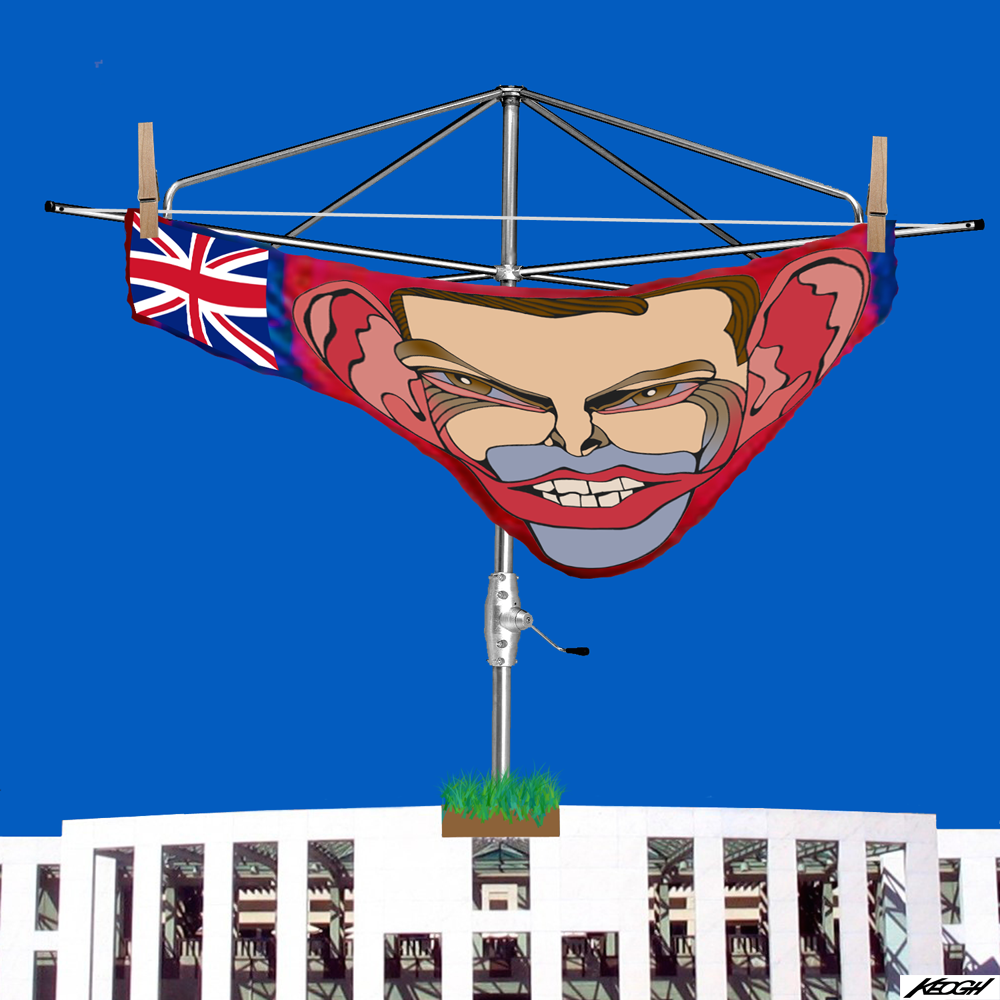 AN IMPORTANT MESSAGE FROM ME
That flagpole cost four million dollars plus. All that public money just to hold up a piece of cloth. Such a terrible waste.
I admit it was Prime Minister Malcolm Fraser who commissioned the new Parliament House with that phallic symbol. Rather apt for an arrogant prick like him to epitomize himself on a grandiose scale. He's a turncoat Liberal deserter.
Speaking of grandiose, I know Australians hate grandiosity, including big words like that. Anything grandiose or high-flown, like that flagpole makes them cringe.
Ah yes, the great Australian cringe. That's the secret of my success. Australians love to cringe.
That's why I'm PM. I am fantastic cringe material. I make Australians cringe. I make them feel so uncomfortable having me as prime minister. They cringe so much that they love me. If they love to cringe and I make them cringe, they must love me. It's perfect logic.
Which brings me to the reason I have called this press conference.
You are all aware of a document leaked by my department that exposes my scheme, which I cannot reveal because it is the subject of an internal investigation. However, I can reveal that it relates to a plan to make Australians cringe to unprecedented degrees. And yes, it does involve dismantling that flagpole.
Might I say however, that nothing could be more Abbottesque to adorn Capital Hill than me, my Speedos and a giant Hills Hoist. And the Union Jack of course – would be un-Australia to ignore that. Australians will love me for it.
I suspect the leak culprit is Peta Credlin, my chief of staff who thought my idea was ridiculous – too cringe-worthy for my own good, she told me. How ridiculous to call me ridiculous. I'm the expert on cringeworthiness. She thinks my ego is out of control.
She does not realise that my ego and the great Australian cringe are a match made in heaven.
When you journos write your columns, please make your readers cringe. If you don't, my grandiose gesture to the people of Australia might never eventuate. That would be such a terrible waste.