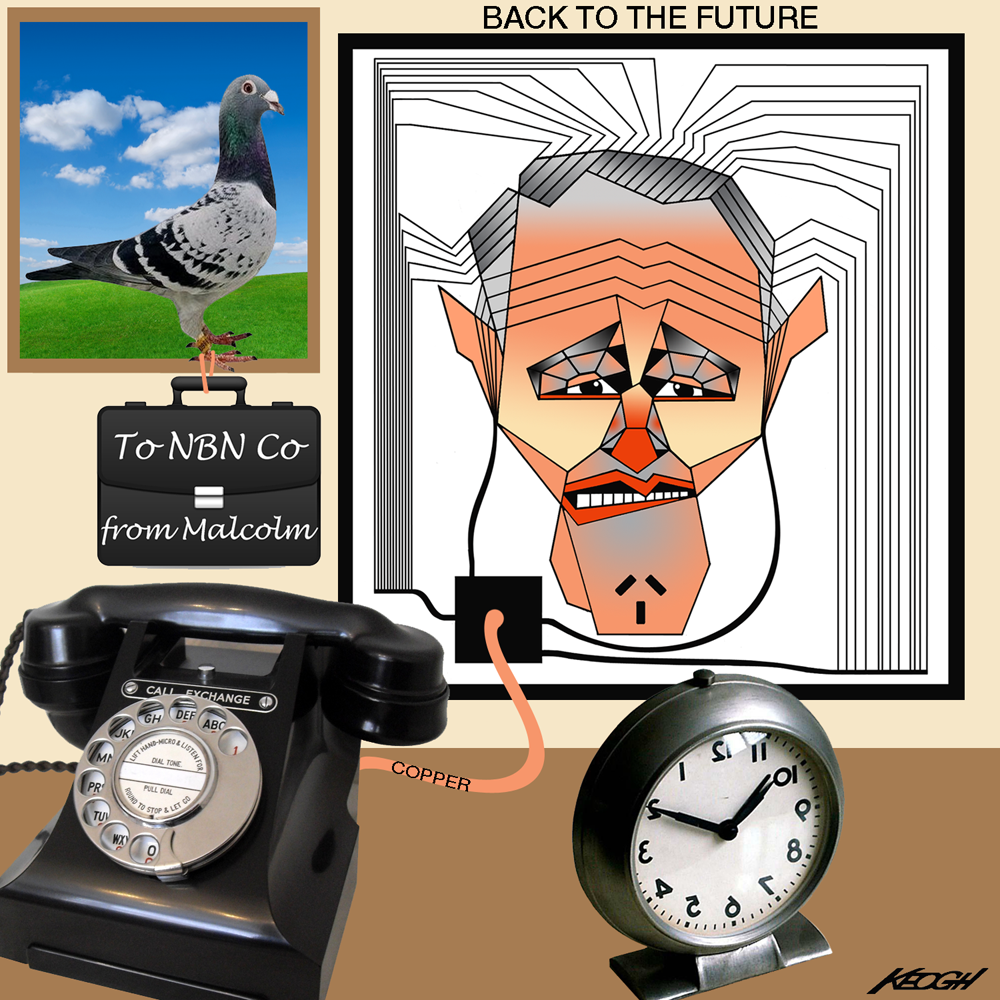 Hello my dear Liberal Party switchboard operator. Please put me through to NBN Co – that's the National Broadband Network Company – if my carrier pigeon didn't arrive there 30 minutes ago.
No need to get smart with me! I know broadband hasn't been invented yet. I'm trying to get back to the future.
I hate being yesterday's man. I'm a social progressive. I'm a republican. I believe in gay marriage. I'm social media savvy. And you should see the way I dress. But here I am stuck in the past, in this party that makes time go backwards – ever since I lost control, that is.
Did you say, "Of my senses?"
Back in 2009, I will be opposition leader, then I'll get dumped for supporting an emissions trading scheme to save the planet from climate change, which won't be recognised until 1989 when a British Prime Minister called Margaret Thatcher addresses the United Nations on this catastrophic threat to the planet.
I will have argued that the world is moving in the direction of carbon pricing. But Tony Abbott – the bloke who steals my job – will say, "As I've always said, the world is moving away from carbon taxes and emission trading schemes, not towards it."
Time will prove me right – the world will move forwards in my direction and not backwards in Tony's. But Tony has stolen my job by one vote. That one lousy vote in that party room where time stood still and the world of progressive thinking swivelled on its axis and began rotating in the opposite direction – backwards – Tony's way.
Operator, you do realise I'm Malcolm Turnbull and I will be Minister for Communications in the Abbott Coalition Government in 2014.
Did I hear you say this is 2014? Hallehulya! At last I've found someone around here who doesn't think it's the 1960's. Someone who understands me. Someone who likes me. You do understand and like me, don't you?
Seeing you and me are now buddies, and we are both in the communications business, I bet you would love to hear my story:
In 2009, as Opposition Leader I secretly believed in the Labor's NBN plan to roll out high-speed optic fibre cable to 93% of homes, schools and business across Australia by 2021, with satellite and fixed wireless networks to service the remaining seven per cent. Fantastic concept I thought.
I could never afford to be seen to agree with anything Labor did or was going to do, even if I did agree. But I didn't go out of my way to criticise the NBN.
Anyway, Tony knew I was pro-NBN. So after he stole my job, he announced he wanted to destroy it. Then, to make my life a complete misery he made me Shadow Minister for Communications. That man has a sick sense of humour.
I had to lie through my teeth with my legendary, persuasive silver tongue, and say the "$43 billion white elephant was a colossal destruction of taxpayer's money".
I knew most Australians wanted the highest possible broadband speed, and Tony's threat to dismantle it was political suicide.  I had to save my own arse, and to do that I had to save his by convincing him go to the 2013 election not still promising to dismantle the NBN.
After Tony became prime minister and I became communications minister, I saved it with my fibre-to-the-node compromise by incorporating Telstra's old copper network . I brought it back to the future, in a backward, short-sighted sort of way. Now he makes out he invented my idea: "We believe in a national broadband network and we will deliver a better one", he said.
It was not going to be a better one, it was worse, but it was better than what he wanted which was yesterday's model, which he personifies, as opposed to tomorrow's model, which I personify.
Yes, I'm tomorrow's man. Get a load of this speech I've written in anticipation:
Firstly, I wish to pay tribute to former Prime Minister Abbott who tragically hanged himself with copper wire, a suicide which I personally oversaw. In this the year of 2021, as President Malcolm Turnbull, I proudly announce the completion of the NBN – my fantastic concept of rolling out high-speed optic fibre cable to 93 per cent of homes, schools and business across Australia, with satellite and fixed wireless networks servicing the remaining seven per cent. I now officially proclaim the Constitution of the Republic of Australia with its revolutionary provisions. Particularly noteworthy are the legalisation of gay marriage and the introduction of a market-based carbon emissions trading scheme. Furthermore, I have authorised that all clocks across this nation resume revolving in a clockwise direction and that progressive thinking be re-instated to its former glory, according to the holy scriptures of  Saint Malcolm of Wentworth, who was recently canonised at the Royal Vaucluse Yacht Club. 
Operator, it's been so nice talking to you. Operator! Operator! Operator!
Don't tell me you've put me on hold. You have! I asked you not to tell me that! That's a funny line from Get Smart – a new TV series where a secret agent called Maxwell Smart has a mobile phone in his shoe. Imagine that! – a mobile phone with no cords or operators.
I don't think you understand me or like me after all, putting me on hold like that. Suppose you lied about it being 2014, you neo-Luddite Liberal.
While I have you, book a wake-up call for yesterday morning at 5 am. I have an early appointment with my mirror. I need time for reflection on my future.